Mason Hageny, President

Mason is a senior at Rhinelander High School, and the chapter president. This is his third year as a member of FBLA/DECA, and his first as an officer. Going on various trips as a chapter, and helping out around the community, he has been heavily involved in all aspects, never prioritizing one over the other. Competing and going to state for both FBLA and DECA primarily for financial events such as Accounting, last year he had the chance to go to DECA Nationals as part of a gold chapter. Held in Anaheim, California, his favorite memory there is just walking around and seeing others from all over the world, and knowing that they were one of many in DECA. Being able to see just how impactful each organization was, Mason was blown away by the full entirety of what FBLA and DECA was, pushing him to try to be more involved in each. If he had to give any advice, he'd say, "Just get more involved. Do community service, do competition, go on trips, just try to do whatever you can. Because, trust me, it'll be the most fun you'll have during the school year, and all of this will help develop who you are and how you hold yourself as a person." He plans to take all of the experiences and lessons taught to him by each in order to major in finance, and minor in management after high school.
---
Abigail Krueger, VP Community Service

Abigail is currently a junior at high school and serves as the chapter's Vice President of Community Service. This will be her third year in the club, and last year she was the Public Relations Officer. Abigail has competed in DECA for two years and FBLA for one. Her freshman year she competed in Principles of Hospitality and Tourism (DECA). Her sophomore year she competed in Hotel and Lodging (DECA), Community Service Project (DECA), Gold Chapter Scrapbook (DECA) and Public Speaking I (FBLA). Last year she had the chance to compete at DECA's International Career and Development Conference in Anaheim, California. "Competing at Internationals was one of the best experiences I have ever had. Being able to compete against kids from all over the world and gain so much knowledge was such a blessing". Abigail's best memory of FBLA/DECA was at Internationals when she got the chance to swim in the freezing Pacific Ocean for the first time. After high school she plans to major in Business Administration and eventually get a MBA. Being a member of FBLA/DECA has helped Abigail with everything from public speaking to test taking skills. Most importantly however FBLA/DECA has helped her develop a true passion for business and marketing.
---
Lauren Rosendahl, VP Social Activities

Lauren will be a senior at Rhinelander High School this year. She has never had an officer position before and is extremely excited to have this opportunity. Lauren has been a member of FBLA/DECA for three years, she loves to be involved in all the different aspects the club has to offer. Lauren had the chance to go to state with DECA last year so she is hoping to go there again as well as FBLA state. Her favorite aspect of being in FBLA/DECA is being able to make new friends. During DECA state last year she got to share a room with the past president Haley Sisel, this was a great experience for their friendship to flourish. Her favorite memory from DECA state was carrying around a giant speaker and playing music all through the halls with not only her friends from the Rhinelander chapter but new ones from around the state. FBLA/DECA has by far been Lauren's favorite club to be a part of because it teaches you how to become a better person even if you don't want to go into the business field. Although, Lauren is not quite sure what her future will entail, she would love to travel all over the world meeting new people. She would also love to be a kindergarten teacher or possibly an esthetician. No matter what her future holds Lauren is positive that it will be an exciting adventure each and every day. Her goal for this year is to become a better public speaker and to be more outgoing, she hopes her officer position can help her achieve these goals.
---


Matthew Herman, VP Finance

Mathew is a Senior at Rhinelander High School and is the VP of Finance for our FBLA/DECA club. This will be his second year as a member of FBLA/DECA and his first year being a chapter officer. Last year Mathew competed in FBLA and qualified for state in Agribusiness. This year he plans on competing in both FBLA and DECA. One memory that he will never forget was entering the opening ceremony at FBLA state. "At state I got the full experience of competition when I was surrounded by over 3000 other members who had the same passion that I did for FBLA, it was truly amazing". After high school Mathew plans on either taking over his father's business and operating his own excavating company, or go to college with a focus on a degree in engineering or business. FBLA/DECA has helped Mathew strengthen his leadership abilities and develop strong communication skills which will help him for many years to come. "I highly recommend getting involved in extracurricular activities outside of school such as FBLA/DECA and stepping out of your comfort zone to try new things and meet new people."
---
Natasha Wacker, VP Communications

Natasha is currently a junior at Rhinelander high school. This is her first year having an officer position and she chose to run for VP of Communications and this will be Natasha's third year in the organization. Her favorite community service event is Ruby's Pantry because of the great memories she has made with her fellow officers during the event. The greatest memory from the event is when someone has nothing in the back of their trunk and everyone yells "No junk in the trunk!" meaning that there was room to put food back there from the pantry. Besides enjoying community service activities Natasha also enjoys competing in FBLA and DECA competitions and being able to represent the good behavior we have here at the Rhinelander high school. Her freshman year, Natasha competed in Principles in Hospitality and Tourism for DECA at district level and didn't get to advance on. Instead she got to go to the state level as a service associate and got to learn and experience all the hard work WI DECA puts into their state competition. She even got the opportunity to walk up on the stage with other service associates and get recognition for help setting up events for the 3 days she was there. Besides doing DECA competition, she also got to compete at regional level for FBLA competition and competed in Business Communication. For her sophomore year, she decided to only compete for DECA competition and try out Resale Merchandising and did pretty well but didn't advance on. For the future her goal is to attend a four year college that will have a great business program and hopefully go into marketing and management. She would also like to get an internship while in college that has to deal with marketing. She believes that FBLA/DECA will help her reach that goal because the organization has helped her so far in learning how to better her leadership skills and speaking abilities. These skills will serve her well if she's going into the marketing and management fields.
---
Emma Wendt, VP Public Relations

Emma is a Junior at Rhinelander High School this year. This year she holds her first officer position, serving as the chapter's Vice President of Public Relations. This will be her third year participating in the club. Emma has competed in FBLA for one year. Last year, her Sophomore year she participated in Intro to Business Communications. One of Emma's favorite parts of FBLA/DECA is when during the school year the club goes and writes letters to santa with the elementary aged children in the district. Being a member of FBLA/DECA has helped Emma become more outgoing and a more confident leader. If asked Emma would say that she attributes most of her high school success to being a part of FBLA/DECA. After high school, Emma plans to attend college and pursue a career in architecture, and one day open her own architectural firm using the skills she has developed through being a part of FBLA/DECA.
---
Powered by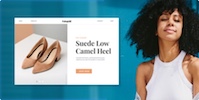 Create your own unique website with customizable templates.